BY: JOHN RILEY
Created: Tuesday, January 20, 2015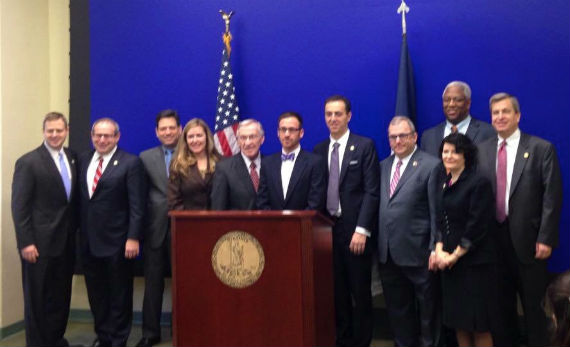 Equality Virginia Executive Director James Parrish (center), flanked by 10 pro-equality lawmakers at Tuesday's press conference touting various pro-LGBT legislative initiatives. From left to right: Del. Patrick Hope (D-Arlington), Del. Mark Sickles (D-Franconia), Del. Scott Surovell (D-Mount Vernon), Sen. Jennifer Wexton (D-Leesburg), Del. Ken Plum (D-Reston), Del. Marcus Simon (D-Falls Church), Sen. Adam Ebbin (D-Alexandria), Sen. Don McEachin (D-Richmond City), Sen. Barbara Favola (D-Arlington) and Del. Rip Sullivan (D-McLean). (Photo courtesy of Equality Virginia)
Flanked by supporters, progressive leaders and legislative allies, Equality Virginia, the commonwealth's top LGBT rights organization, held a press conference in the General Assembly House Briefing Room in Richmond on Tuesday morning to tout 21 pieces of pro-LGBT legislation that range from repealing Virginia's statutory and constitutional bans on same-sex marriage — declared unconstitutional by a federal circuit court of appeals last year — to prohibiting discrimination in public employment.
Equality Virginia Executive Director James Parrish acknowledged the progress made in the past year, even as he called for the General Assembly to pass bills aimed at helping make LGBT Virginians' lives easier. In past years, Parrish has cited polling revealing that most Virginians wrongly assume that Virginia law already protects LGBT people from discrimination. During the press conference, Parrish again highlighted that most people are just unaware of the status of LGBT rights in the commonwealth.
"Even as Virginians continue to celebrate the freedom to marry, it is important to remember that LGBT Virginians are still discriminated against every day," Parrish said. "For example, many people are surprised to learn that LGBT Virginians can be fired from their job simply because of who they are."
Although it briefly seemed as if lawmakers would be more amenable to other pro-LGBT pieces of legislation after same-sex couples across the commonwealth began marrying, that period of hope is over for all but eternal optimists. Despite having allies in the governor's mansion, the lieutenant governor's seat serving as presiding officer of the Senate, and the attorney general's office, LGBT Virginians are finding that the Republican-led House of Delegates is doing everything to drag its feet when it comes to anything LGBT-related.
LGBT advocates and allies have also been jolted awake by some cold water in the form of two bills proposed by Del. Bob Marshall (D-Manassas Park, Sudley, Bull Run): one, HB1409, that prohibits agencies of the commonwealth from requiring contractors to agree to any nondiscrimination agreements that cover sexual orientation or gender identity, and another, HB1414, that would create a so-called "conscience clause" exemption for individuals or businesses that undergo state certification, registration or licensing, allowing them to cite religious or moral objections in refusing to perform, assist, or participate in any action that could be seen as condoning either same-sex marriage or homosexual behavior. Similar measures have passed in Mississippi, where it was signed into law, and Arizona, where it was vetoed by the governor, and have been introduced in other states where Republicans control all three branches of government.
Following Marshall's introduction of HB1414, Parrish blasted the bill as "extremist, hateful and discriminatory."
"Businesses and service agencies that are open to the public should be open to everybody on the same terms, including LGBT customers and clients," Parrish said at the time. "While we are all entitled to our own religious beliefs, we cannot use those beliefs to discriminate against others. ...Discrimination under the guise of religious freedom is still discrimination and Virginia is better than that."
Marshall's bills aside, Parrish used Tuesday's press conference to highlight and explain the importance of the various pieces of legislation that his organization is backing. Some of Equality Virginia's priorities received a boost when Gov. Terry McAuliffe (D) recently expressed support for LGBT rights as part of an "Equal Opportunity" legislative agenda that promotes progressive policies. Specifically, McAuliffe proposed updating Virginia's laws to reflect the reality that same-sex marriages are now legal in the commonwealth by changing sections of the Code of Virginia that reference gender-specific terms such as "man and woman" or "husband and wife" to gender-neutral terms like "spouse." Sen. Adam Ebbin (D-Alexandria, Arlington, Belle Haven) has patroned SB1211, a bill that would do exactly what McAuliffe has proposed with respect to gender-specific references. That bill is scheduled to be heard next Monday, Jan. 26. There are two similar measures in the House, one, patroned by Del. Marcus Simon (D-Falls Church City, Merrifield, Pimmit Hills) nearly identical to Ebbin's legislation and another, by Del. Rip Sullivan (D-McLean, Arlington) that calls for a study of how best to revise gender-specific references in light of the overturn of Virginia's bans on same-sex nuptials. A number of other bills, patroned by at least five LGBT-friendly lawmakers in both chambers, also seek to "clean up" Virginia's statutes by removing the statutory and constitutional bans that were declared unconstitutional last year.
Pro-equality advocates' most important priority this session, as in previous years, is a push to prohibit discrimination in public employment based on sexual orientation or gender identity. In the Senate, Sen. Don McEachin (D-Richmond City, Ashland, Charles City) has patroned SB785, a bill that would do just that. In a surprise move, the Senate Committee on General Laws and Technology voted on the measure during a Jan. 19 meeting, where the bill almost died when it deadlocked 7-7 in committee after a Democratic senator was absent from the hearing and had not designated a proxy to vote on his behalf. But quick-thinking allies on the committee managed to get the measure "passed by" immediately after the vote, thereby prolonging the bill's life and allowing supporters of nondiscrimination legislation another chance to organize themselves ahead of a Jan. 26 committee meeting, in hopes of passing the measure. If all senators are accounted for, the bill should pass out of committee on an 8-7 vote. Then, passage in the full Senate would require all 19 Democrats in the upper chamber to be present and vote in favor of the measure, and gain the support of at least one Republican in order to create a 20-20 tie that could then be broken by Lt. Gov. Ralph Northam, an LGBT rights supporter. The bill has already received support from Sen. Jill Holtzman Vogel (R-Upperville, Winchester, Aldie, Jeffersonton) in committee. Vogel previously told Metro Weekly she opposes discrimination in any form and intends to vote for the bill, both in committee and on the floor.
At Tuesday's Equality Virginia press conference, McEachin expressed hope that his legislation would surmount any obstacles that opponents try to throw in its way.
"I am confident that next week we will do the right thing and support this nondiscrimination bill when it comes before the committee," McEachin said. "All Virginians deserve equal opportunity, justice and fairness. Employees should be able to be confident that their performance on the job is the only standard by which they are evaluated."
Ebbin, a member of the Committee on General Laws and Technology, which will vote on the nondiscrimination bill next Monday, said he was excited that the committee would be able to bring the bill back up for a vote next week that will hopefully result in a vote by the full Senate. Ebbin, echoing a similar theme that LGBT advocates have seized upon, noted that nondiscrimination policies are already in place at leading Virginia corporations, proving that they are not a hindrance, but an asset to businesses who want to settle in the commonwealth.
"Just like the governor said in his State of the Commonwealth address, we need to compete with other states for talented workers," Ebbin said. "Virginia is the birthplace of civil liberties. It's just not right when we don't have the same protections for LGBT people as other groups."
In the House, Del. Ron Villanueva (R-Virginia Beach, Chesapeake) and Del. Ken Plum (D-Reston) have both introduced identical workplace nondiscrimination bills that are similar to McEachin's legislation. Villanueva has also introduced a bill to study the frequency and occurrence of discrimination in housing, while Simon has proposed a bill to make it illegal to discriminate in housing against prospective buyers or tenants based on sexual orientation or gender identity. Sadly, a similar bill in the Senate, SB917, patroned by Sen. Jennifer Wexton (D-Leesburg, Sterling, Herndon) deadlocked in committee 7-7, on Jan. 19, effectively killing it for the session.
Wexton said she was saddened that her bill did not report out of committee but vowed to bring a similar bill up the following year, saying she hoped to continue the fight for fair housing and bring Virginia in line with 18 other states and Washington, D.C., where housing discrimination based on sexual orientation or gender identity is prohibited.
"This is especially regrettable because discrimination in housing is real, and it occurs every day," she said of the bill's failure. "Studies by HUD and HOME have shown that same-sex couples frequently experience discrimination while seeking rental housing. If Virginia wants to attract new businesses, it's shortsighted and wrong to allow this discrimination to continue."
"Ninety-one percent of Fortune 500 companies prohibit discrimination based on sexual orientation and more than 60 percent prohibit discrimination based on gender identity," Wexton continued. "Yet Virginia continues to allow landlords to discriminate against these companies' employees when they seek housing."
But Wexton's legislation has not been the only pro-LGBT bill killed since the legislative session started less than a week ago. Also going down to defeat on the first day of the session was a measure by Sen. Barbara Favola (D-Arlington, McLean, Potomac Falls) that would have added bias-motivated crimes committed against people because of their sexual orientation or gender identification to the definition of what constitutes a hate crime. Favola's bill would have required local law enforcement officials to collect data on bias-motivated anti-LGBT crimes and report them to the Department of State Police, who would then collect and analyze data to help predict, track and combat such crimes. Favola's bill failed in committee, 6-7. In the House, Del. Sullivan has introduced an identical measure, HB1494, which is slated to be voted upon by a subcommittee next Monday, Jan. 26. Sullivan told Metro Weekly that Virginia already reports suspected anti-LGBT hate crimes to the FBI, but Virginia's statutes have not caught up with police procedure.
"What I don't want is a knee-jerk reaction just because this bill mentions sexual orientation or gender identity," Sullivan said. "This is as much a law enforcement bill as an LGBT bill."
Other pro-LGBT initiatives championed this session include a second-parent adoption bill patroned by Sen. Janet Howell (D-Reston, Tysons Corner, Arlington) and two bills, one by Del. Patrick Hope (D-Arlington) and another by Sen. Louise Lucas (D-Portsmouth, Sussex, Franklin, Emporia) that would seek to ban the practice on minors under the age of 18 of so-called "reparative" or conversion therapy that seeks to change a person's sexual orientation or gender identity.
Yet even amid the flurry of bills being introduced, LGBT advocates and allies are realistic about the bill's prospects. Most bills have a better chance of passing the closely divided Senate, which is split 21-19 between Republicans and Democrats, than the House of Delegates, where Republicans, led by Speaker Bill Howell (R-Fredericksburg, Stafford, Aquia Harbor) control the chamber 67-32-1 over Democrats and a liberal-leaning independent.
"This is still a tough battle to wage in the House of Delegates," said Sen. Ebbin, who served in the House prior to his election to the Senate in 2011. "The biggest stumbling block is what committee [bills] go to."
Parrish said he expects all pro-LGBT bills will eventually be blocked by the House of Delegates. Notably, 2015 is an election year for Virginia legislative office holders, which may leave some GOP delegates reticent to support any LGBT-related bills due to fears of primary challenge. Nonetheless, Parrish says there can be no ambiguity when it comes to equal treatment under the law.
"At the end of the day, you are either for discrimination or you are against it," Parrish said. "It is unfortunate that many members in the House are so comfortable standing up for discrimination. Even as the majority of Virginians believe in LGBT equality and nondiscrimination, the House of Delegates continues to stand in the way of meaningful change."