06.01.2019
03.02.2016
11.10.15 Delegate Hope attended a legislative outlook session sponsored by the Arlington Neighborhood Villages.
12.5.2014 On December 5th, Delegate Hope gathered with 200 fellow Arlingtonians at Linden Resources' headquarters for the annual holiday celebration in Arlington County, Miracle on 23rd Street.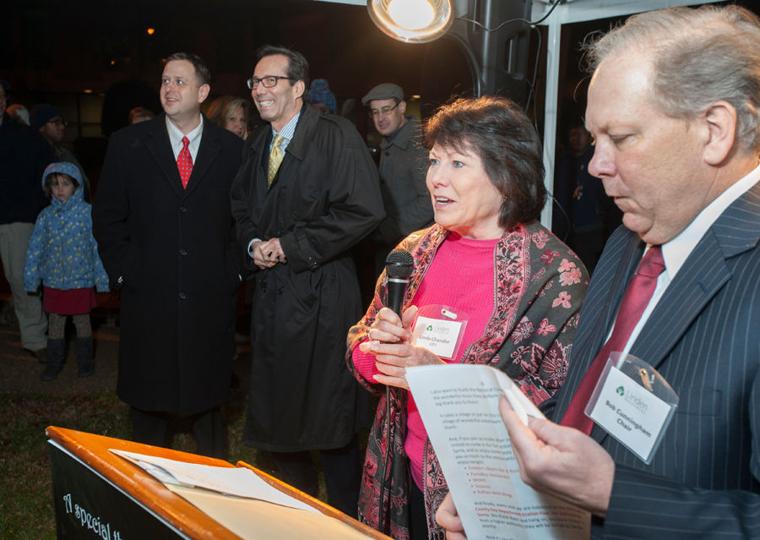 Linden Resources CEO Linda Chandler speaks at the "Miracle on 23rd Street" celebration as Del. Patrick Hope, County Board Chairman Jay Fisette and Linden board chairman Bob Cunningham look on. (Michael Ventura/Linden Resources)
10.18.14 Delegate Hope and his wife Kristen attended An Evening Under the Stars, a gala sponsored by The Arc of Northern Virginia.
11.26.2013 Delegate Hope joined over 200 students at Washington Lee High School today for an interactive talk about his role in politics, the Virginia legislature, and upcoming legislation.
07.10.2013 Delegate Hope participated on both the Consumers and Public Policy Panel and the State Reform Action Panel at the FCC Workshop on Inmate Calling Service Rates held today in Washington DC. Discussions centered on the individual and societal impacts of rates, rate reform, and increased contact between incarcerated individuals and their families.
06.02.2013 The rain held off and the sun was shining at the 5th Annual Hope for Virginia Ice Cream Social. Everyone enjoyed ice cream and sunshine while visiting with friends and posing with Tobey our Democatic Donkey.
03.28.2013 Delegate Hope and Lori Haas with the Coalition to Stop Gun Violence had a open conversation with Arlingtonians at Coffee Talk with Patrick at the Central Library. Lori's daughter was shot and wounded in the Virginia Tech shooting and she shared her compelling personal experience as well as her work on Capitol Hill for gun policy reform.
03.23.2013 David and Paula Potts hosted a Reception with Delegate Patrick Hope. Friends and neighbors enjoyed savory treats and heard about the new transportation bill, Medicaid expansion in Virginia, and other session highlights.
03.20.2013 Delegate Hope had the pleasure to visit with friends and neighbors at the Ashton Heights Civic Association meeting to talk about the 2013 Session highlights and answer questions.
12.11.12 Joined by 25 Arlington high school students participating in the Model General Assembly Program, Delegate Hope gave an overview of the legislative process in Richmond and listened over their working lunch to the presentation of the five bills they are working this year.
11.07.2012 Delegate Hope joins members of the Washington-Lee Young Democrats to discuss the 2012 election results.
10.12.2012 Delegate Hope joined the 4th and 5th graders at Barrett Elementary School today to talk about Virginia State Government and how a bill becomes a law in our Commonwealth.
10.01.2012 Del. Patrick A. Hope (D-47) received the "Collaborations Leadership Award" for 2012 from the Virginia Rehabilitation Association, the Virginia Association of Community Rehabilitation Programs and the Virginia Association of Persons in Supported Employment. The award is a joint effort by three statewide associations in Virginia to recognize an individual for outstanding leadership in making a difference in the lives of Virginians with disabilities. Above are Amy Thomas, president, Virginia Association for Persons in Supported Employment; Hope; Dave Wilber, president, Virginia Association of Persons in Supported Employment and COO, Eggleston Services, Norfolk, and Ned Campbell, president, Virginia Rehabilitation Association.
09.29.2012 As part of our effort to support literacy for all children in Arlington, Delegate Hope participated in the second Community Reading Festival sponosred by The Reading Connection at Patrick Henry Elementary School. The event included guest readers and craft activities for over 200 families to support Hispanic Heritage Month and helped raise awareness about the critical importance of reading in a young child's life.
09.06.2012 Delegate Hope addressed representatives from over 30 states at the Children's National Medical Center in Washington DC who were interested in implementing newborn screening for CCHD.
05.22.2012 Today at the Organized Women Voters luncheon and joined by Delegate Robert Brink, Delegate Hope presented House Joint Resolution 353 celebrating the life of Delia Atwood to her daughter Bonnie.
04.16.2012 Delegate Hope visited three 4th grade classes at McKinley Elementary School to talk with them about the three branches of the Virginia state government and how a bill becomes a law in our Commonwealth.
02.18.2012 Delegate Hope was one of the featured speakers as an up-and-coming generation of local Democratic activists gathered today to learn practical ways to make a difference in elections at the local, state and national levels at W-L High School.
01.16.2012
Near the General Assembly Building, Virginians assembled for a rally today before continuing their journey inside the building to meet with their respective Delegates and Senators. Click here to listen to Delegate Patrick Hope addressed the group.
11.07.2011
Delegate Hope joined the Glebe Elementary School Parent Teachers Association (PTA), staff, students and
other elected officials and guests for their Solar Panel Installation Ribbon Cutting Ceremony this morning at the school. This celebration marks the first solar installation of any kind in Arlington Public Schools.
11.06.2011
Delegate Hope participated in the "Be Brave and Shave" event at the Fashion Centre at Pentagon City in Arlington County on Sunday. Be Brave and Shave is a signature event of Heroes Against Childhood Cancer.
In what began as Delegate Hope welcoming participants and offering praise for the work of Children's National Medical Center, he surprised the audience by announcing he was going to get his own head shaved to help raise awareness and raise funds.
After receiving his buzz cut, Delegate Hope joins Dr. Max Coppes, SVP for the Children's Center for Cancer and Blood Disorders to show off his new look.
11.03.2011
Delegate Hope and Barbara Favola talk with friends at Tower Villas this evening at the home of Richard and Jean Barton.
11.03.2011 Delegate Hope was the keynote speaker at theAnnual Conference VA Dept of Health Tobacco Use Control Project Annual Conference in Richmond and i s pictured below with Keenan Caldwell, the State Director of Government Relations for the American Cancer Society.
11.02.2011
Delegate Hope was joined by Barbara Favola at the Jefferson tonight to talk with over 40 residents about upcoming issues in the General Assembly and the importance of voting on Tuesday, November 8th.
10.26.2011
As the guest of Morton Zetlin, Delegate Hope presented a 75th Anniversary Commendation to Mercedes-Benz of Arlington tonight at their grand reopening gala. Several hundred people joined in celebration as American Service Center officially changed their name to Mercedes-Benz of Arlington reflecting their pride in Arlington and their commitment to selling and servicing quality Mercedes-Benz vehicles.
10.25.2011
Delegate Hope joined his friends at Culpepper Gardens for an Evening with Hope
.
Fall themed refreshments were served and residents had a lively discussion as well as honoring two 103rd birthdays
.
10.25.2011
Jarrod Nagurka, President of the Washington-Lee Young Democrats invited Delegate Hope to address their YD Club.
10.15.2011 Delegate Hope joined by Delegate Filler-Corn were two of the legislators present for the Social Action Linking Togerth (Salt) annual Northern Virginia Canidate Meet & Greet Forum held at the Arlington-Fairfax Elk's Lodge today.
09.20.2011
Working to elect more Democrats in the house, Delegate Hope attended a reception for Mike Kondratick, candidate for Delegate in the 87th District. Delegate Hope is pictured here with Mike and Delegate Ken Plum and below with Mike Kondratick and Robert E. Simon.

o9.10.2011
Delegate Hope joined other Arlington elected officials for the 9/11 Commemoration Ceremony at the Air Force Memorial marking the 10th anniversary of the attacks of September 11, 2001.
07.26.2011
The Ballston-Virginia Square Civic Association invited Delegate Hope to attend their July meeting to update the membership on redistricting, highlights of the 2011 Session and what to expect in the 2012 Session in Richmond.
07.18.2011
Delegate Hope joined members of the Buckingham Community Civic Association for their monthly meeting and discussed the redistricting plan as well as 2011 legislative changes.
07.16.2011 Delegate Hope was the Health Care Panel Moderator at the DPVA Summit Meeting in Richmond. The panel features national and state health policy experts who will frame the big picture politics of health reform and discuss five key issues: insurance market reforms, delivery system reforms and cost containment, the constitutionality of the reform law, the many ways in which the Affordable Care Act will affect people's health, and the reform process in Virginia, highlighting key decisions facing Virginia policy makers now and over the next few years.
07.13.2011 Speaking on behalf of the Arlington Delegation, Delegate Hope addressed the 2011 Judicial Boundary Realignment Panel at George Mason University tonight about the significant impact of the proposed realignment of the judicial circuits and districts on Arlington County.
o6.23.2011
Delegate Hope spoke at the Grand Opening of the new Giant located on Columbia Pike this evening celebrating Giant's 75 year tradition of quality, value and service for many of the 47th District constituents.
06.22.2011
Delegate Patrick Hope with Virginia's First Lady Maureen McDonnell at the launch of the "Trail Mix" on the W&O Trail.
06.05.2011 Delegate Hope and nearly 80 friends joined Tobey, the Democratic Donkey for a refreshing afternoon at his home to celebrate the 3rd Annual Hope For Virginia Ice Cream Social. Everyone had a great time and most of the younger constituents enjoyed riding Tobey around the backyard!
05.25.2011 Delegate Patrick Hope speaks for a few minutes with ABCC President Rick Reinsch before addressing the Arlington Business and Civic Circle members at their breakfast meeting.
o5.14.2011 Delegate Hope joined other local celebrities at the Arlington Arts Center annual Art Bash - Critique the Critics. Showing off his creativity and art skills, this head-to-head competion required participants to create their own masterpieces using childhood art supplies inlcuding play-doh, etch-a sketches, finger paints and pipe cleaners.
05.10.2011 Delegate Hope participates in the ceremony this morning at the Arlington Free Clinic where the clinic received a major Campbell Hoffman Foundation gift.
04.18.2011 - 04.24.2011 Delegate Hope has accepted the challenge to choose vegetarian food for the week in order to promote overall health benefits.

04.13.2011 Delegate Hope spoke to 30 members of the National Active & Retired Federal Employees members at their Legislative Update Meeting today Culpepper Gardens.
o4.11.2011 Delegate Hope joined representatives of the Virginia Lottery at Arlington's Science Focus School to honor 2nd grade teacher Elizabeth Abraham as one of the eight educators statewide to receive the Virginia Lottery Super Teacher for 2011. Click here to view video.

04.03.2011 Delegate Hope was on the mound at Barcroft Park today with Arlington Little League Baseball throwing out the first pitch as both teams and fans celebrate 25 Years of Youth Baseball.
03.31.2011 Delegate Hope had the pleasure of updating his friends at The Carlin on the recent Legislative Session and finished up with a discussion about their concerns and issues.
03.27.2011 Delegate Hope joined Delegate Brink for a Telephone Town Hall Meeting. Hundreds of Arlingtonians not only listened to a legislative update of the 2011 Session but also asked questions of both Delegates. If you missed this event, click here to download the hour long audio of their Town Hall Meeting.

03.24.2011 Over 50 people joined Delegate Hope and Lucy Denney for a celebration of her 80th Birthday at the APAH offices. Senator Mary Margaret Whipple, Delegate Bob Brink and Patrick presented Lucy with a copy of HJ 955 celebrating her years of service to Arlington.
03.20.2011 Delegate Hope joined by over 100 friends and supporters introduces Adam Ebbin as he kicks off his Ebbin for Virginia Senate Campaign.
03.19.2011 At the SALT Richmond Legislative Wrap-Up meeting Delegate Hope gave an update of the Session and the new Progressive Caucus for over 100 attentive guests.
03.16.2011 Delegate hope visits friends at Culpepper Gardens to update them on the 2011 Legislative Session.
03.03.2011 Delegate Hope participated in an interactive conference with Barrett Elementary students as part of the Virginia Aerospace Day that took place in Richmond today.
01.17.2011 Delegate Hope speaks at the Rally for the Coalition of Persons with Disabilities at the Bell Tower on the grounds of the Capitol this morning. Below, Delegate Hope and James Stewart, Commissioner for the Department of Behavorial Health and Developmental Services watch other speakers at the event.

01.08.2011 Delegate Hope made pancakes for nearly 80 people who came out on a beautiful snowy morning at the 2nd Annual Hope for Virginia Pancake Breakfast at the historic Barcroft Community House.
12.17.2010 Delegate Santa made a surprise visit to the Lubber Run Community Center and brought gifts for all of the children.

12.16.2010 Delegate Patrick Hope moderated a panel of experts who addressed the impact of health-care reform on the Arlington community, large and small businesses and public and private health-care providers as part of Leadership Arlington's fall speaker series at WETA's headquarters in Shirlington.
12.09.2010 Patrick Hope was the keynote speaker at the recent James B. Hunter Human Rights Awards Ceremony held at Arlington County Government Building. Delegate Hope challenged businesses and government to hire more people with physical and mental disabilities. Hope said, "People with disabilities don't want a handout; they just want a chance."

11.15.2010 Delegate Hope Visits AHC's Teen Program and participated in their public service announcement for the
AHC's Teen Program, a program which sends more than 90% of its teens to college. AHC's program is part of the statewide Project Discovery initiative and is coordinated through Arlington County's Employment Center. The PSA is being produced with the help of Arlington Independent Media.
11.07.2010 Patrick joined by Delegates David Englin and Joe Morrissey for Delegate Adam Ebbin's birthday celebration and campaign kickoff event.
10.19.2010 Last night Delegate Hope received a "Rookie of the Year" award from the Virginia Education Association (VEA) at the local Arlington Education Association (AEA) meeting. Delegate Hope received the honor for his 100 percent VEA voting record in the 2010 legislative session of the Virginia General Assembly. The Arlington Education Association is an organization of members, including teachers and educational support personnel, who advocate for its members by meeting regularly with Arlington Public Schools administration and School Board members to discuss working conditions, instruction, benefits and wages.
10.02.2010 Patrick presented Marjie Mayer, a 47th District constituent, a copy of HJ 327celebrating the life of her husband, James I Mayer. Jim was a friend to many of us as well as a respected citizen, community leader, and passionate political activist who lived in Arlington County for nearly 40 years. Jim passed away on July 31, 2009. Jim and Marjie's son, Jerry, was also in attendance. This Resolution was presented at the Nature Center in the Potomac Overlook Regional Park which was last year renamed the James I. Mayer Center for Environmental Education in honor of Jim.
09.30.2010 Despite heavy rain, over 100 HOPE fans attended a reception honoring Patrick at the home of Betsey Wildhack & Susie Doyel. Special guest House Minority Leader, Ward Armstrong was also in attendance.
07.24.2010 Patrick joined John Cook, Director of L'Arche as their guest for the ribbon cutting ceremony marking the opening of L'Arche's second home in Arlington. L'Arche strives for the independence and inclusion of every individual with a disability in every community. Delegate Hope further spoke to the group about both the hopes and challenges of the intellectually disabled across our Commonwealth.
06.19.2010 Interested citizens attended the first 2010 Town Hall Meeting held at Westover Library. Delegate Hope joined Senator Mary Margaret Whipple (D-31) and Delegate Bob Brink (D-48) for an lively discussion on state issues and answered questions from the group.
06.21.2010 Delegate Hope joined with Delegates Adam Ebbin (D-49) & Charniele Herring (D-46) and held a Prison Reform Town Hall Meeting to discuss Virginia's Correctional Facilities at the Walter Reed Community Center before a packed room. The distinguished panel included:
Doug Ierley,Counsel - Office of Senator Jim Webb
Scott Richeson, Programs Director - VA Department of Corrections
Bill Richardson - Virginia CURE
Helen Trainer, Project Director - Legal Aid Justice Center's Virginia Institutionalized Persons
01.09.2010 Pancakes with Patrick. January 9th marked the first annual Pancakes with Patrick held on the last Saturday morning before the Session began in Richmond. Friends and family gathered on a cold January morning at the Barcroft Community Center and enjoyed pancakes cooked by our own Delegate Hope! Entertainment was also provided by George Hobart and friends. Hope to see you next year on Saturday, January 8, 2011.
Holiday Season 2009 Who is wearing the red suit??? Santa Claus delivers presents to the kids at the Lubber Run Community Center and has been this since 2003. All the kids go home with a present and a smile!